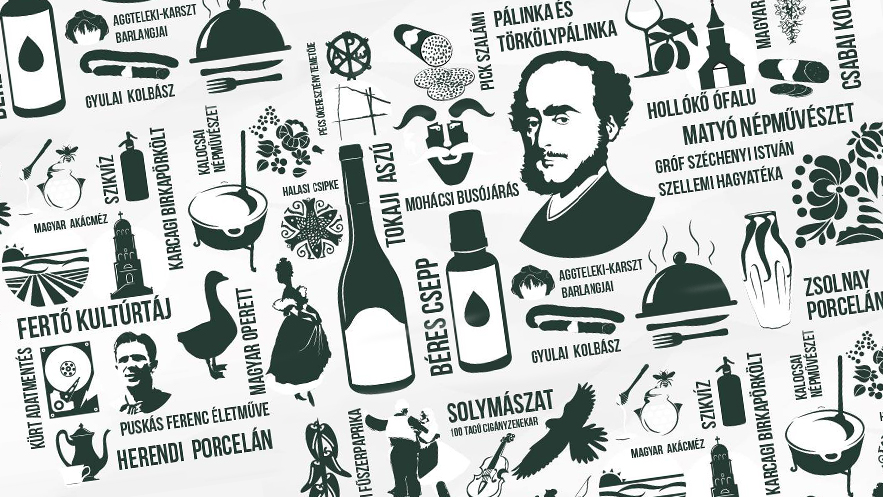 The National Agriculture and Food Exhibition and Fair is Hungary's biggest, oldest agricultural event enriched with essential traditions that has an more than 100 years old history. The enduring mission of the event is to present the achievements of the agriculture sector.
2017 was the year when OMÉK was hosted for the 78th time – similarly to the previous occasions – the hungarikum stand participated representing the Ministry of Agriculture.
Visitors were able to familiarize themselves with the process of becoming a hungarikum, moreover, numerous hungarikums were showcased at this occasion with the purpose of displaying the widest palette possible and to unveil them to the public.
Along the week painting women from Kalocsa decorated a huge Kalocsa wall painting with the contribution of visitors the result of which had evolved into a master piece by the final day. Guests were also provided with insight into the production procedure of Halas lace demonstrated by lace artists. The town of Hévíz exhibited a chocolate maquette of lake Hévíz and visitors were able to participate in a contest and taste exquisite dishes. Guests were welcomed by masqueraded busós and they could familiarize themselves with the town of Mohács.
The event additionally gave a gastronomical experience to its visitors. At the hungarikum stand one also had the possibility to taste PICK wintersalami, Gyulai as well as Csabai sausages, products prepared from the Hungarian grey cattle, Hungarian acacia honey, chimney cake, Tokaji aszú and Egri Bikavér.
The performance of Hungarian operetta artists; Csaba Nagy tárogató artist and the Hungarian folk dance demonstration of two couples from the Debrecen Folk Dance Ensemble –by teaching and encouraging visitors to participate in an improvised dance house, all additionally elevated the standards of the event. The dance was accompanied by live music. The falconry demonstration was a great success among visitors.
To expand the array of hungarikum; two hussars of the National University of Public Service welcomed guests in their full uniform.
The photo theatre of Ferkó Kádár aimed to cultivate and familiarize guests with Hungarian culture, peasant culture in particular. By using a special canvas for the background, and allowing visitors to wear authentic costumes, the theatre made it possible to portray pictures representing scenes of the era.
The hungarikum stand saved place for an exhibition area where LCD monitors were placed with the purpose of showing movies promoting the hungarikum image to visitors.